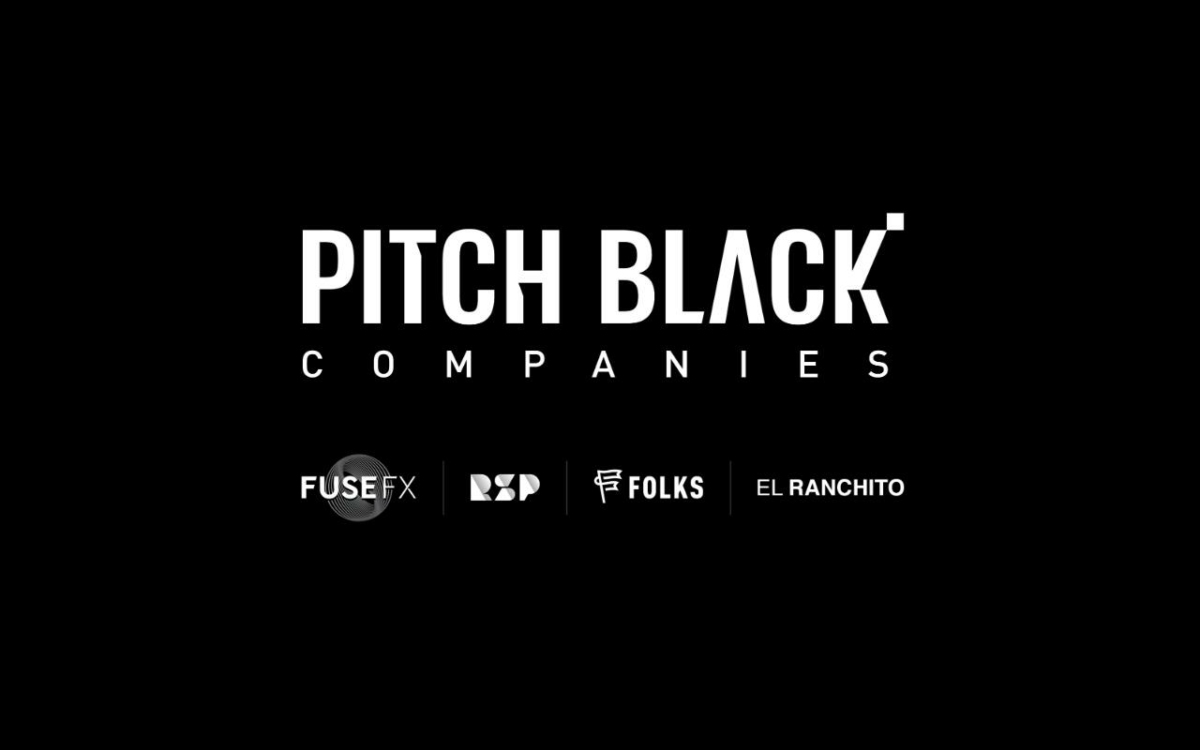 PITCH BLACK WILL SERVE AS THE PARENT COMPANY FOR LEADING VISUAL EFFECTS BRANDS FUSEFX, FOLKS, RISING SUN PICTURES, AND EL RANCHITO
January 18, 2023 – LOS ANGELES – Today, the Pitch Black Company, formerly the Fuse Group, unveiled its new corporate identity and branding. Pitch Black will continue to serve as the parent company for leading visual effects brands FuseFX, FOLKS, Rising Sun Pictures, and El Ranchito, all of which will continue to operate under their existing brands and markets. The new branding and corporate architecture will better allow Pitch Black to serve its strategic mission of operating as a global network of premium visual effects studios that supports its clients worldwide.
Pitch Black CEO Sébastien Bergeron said, "We're proud to introduce Pitch Black, which will connect our current and future studios by providing scale, a global footprint, and access to the entire organization's talent, technology, and resources. Together, we will expand, innovate, and support each brand's unique strengths and relationships as we continue to provide a tailored experience for our clients. Our goal is for Pitch Black to become synonymous with creative excellence: a group of premier brands that empower, embolden, and excite filmmakers and storytellers around the world. We have a tremendous opportunity ahead of us, and Pitch Black is perfectly positioned to capture it."
FuseFX Founder and Pitch Black Chairman David Altenau stated, "The creation of Pitch Black as an over-arching structure will provide a space to continue to build the connective tissue between our individual brands. It represents the evolution of the original vision to bring together the most excellent and established visual effects studios from across the globe and allow each to maintain their identities, cultures, and strengths. I am thrilled with the team's commitment to create the next generation global visual effects studio, and I look forward to the next chapter of the organization."
The company employs over 1,400 personnel across 13 worldwide studio locations led by an executive leadership team across the visual effects brands, including Sébastien Bergeron (Chief Executive Officer, Pitch Black), David Altenau (Chairman, Pitch Black), John Pietrolungo (Chief Financial Officer, Pitch Black), Johnny Fisk (President, FuseFX), Amélie Poitras (President, FOLKS), Jennie Zeiher (President, Rising Sun Pictures), Tony Clark (Co-Founder and Managing Director, Rising Sun Pictures) and Félix Berges Muñoz (Co-Founder and Managing Director, El Ranchito).
Pitch Black saw incredible growth in 2022, including the acquisition of El Ranchito, the expansion of Rising Sun Pictures and FOLKS into Brisbane and Mumbai, and continued strong performance from FuseFX's four locations across the U.S. and Canada.
Pitch Black companies were recently nominated for three 2023 VES Awards, which when combined with previous nominations, brings its total award nominations to 117 and 53 wins, a testament to the creative excellence of all Pitch Black brands.
01.12.2023

Variety Exclusive: Interview with Pitch Black CEO Sebastien Bergeron

01.12.2023

VES Award Nominations